Chiropractic Care Created Precisely For You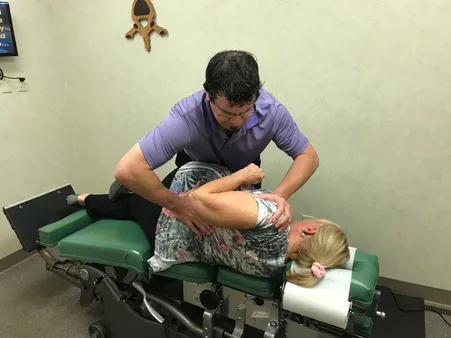 At the Cherryland Chiropractic Center, Dr. Jeremy Rudkin and his team take your well-being seriously. Our mission is to provide your whole family with the best, natural chiropractic care to optimize your health by treating the problem or the conditions like pain and disease that harm your well-being.
The Cherryland Chiropractic Center is the oldest chiropractic office in the Traverse City, MI area. It has been serving the community for 45 years. Our practice was first opened by Dr. Tishman, and Dr. Sekol subsequently practiced here for 38 years. After that, Dr. Rudkin took over and has been providing invaluable chiropractic care to residents for over four years, including to patients loyal to our practice for decades.
Dr. Rudkin treats all kinds of chiropractic complaints, and his patients include those who are suffering from symptoms of:
- Vertigo and dizziness
- Headaches and migraines
- Back, neck, and shoulder pain
- Pain in the arms and legs, including Sciatica
- Peripheral neuropathies
At the core of chiropractic is the belief that manipulating and adjusting the spine promotes self-healing and activates the immune system to help improve your overall health and quality of life. In addition to treating general chiropractic complaints, Dr. Rudkin at the Cherryland Chiropractic Center serving Traverse City, MI, also deals with central nervous system complaints, including:
- Indigestion, constipation, diarrhea, and heartburn
- Chronic fatigue
- Anxiety
- Allergies and congestion
- Blood pressure problems
- Circulatory problems and swollen ankles
- Acne

After a thorough evaluation, we can offer you a customized treatment plan combining one or more of the following therapies:
- Chiropractic adjustments and manipulations
- Neck traction
- Full spinal traction on a roller table
- TENS therapy
Each therapy is designed to promote rapid healing naturally and without being invasive, so that we can positively impact your health from the get-go.
Contact Us!
If you need to optimize your health, please speak to Dr. Rudkin and his team at the Cherryland Chiropractic Center about how chiropractic can improve your overall quality of life and relieve your pain. Call today on 231-941-8650 to book your appointment.